Get the Skills to Become a Pharmacy Technician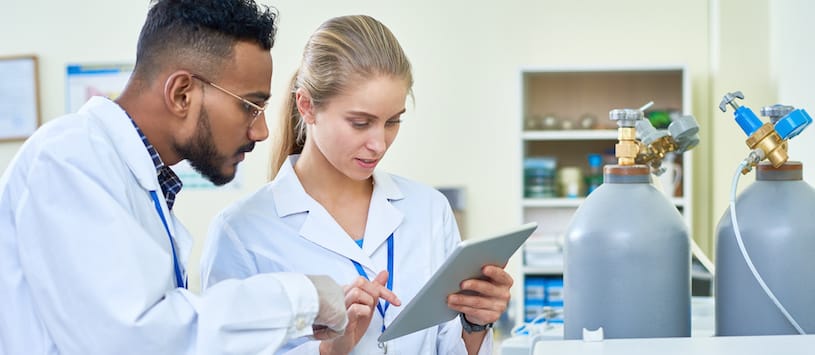 Pharmacy Technician Program in Rolling Meadows, IL
Northwest Suburban College (NWSC) offers an outstanding Pharmacy Technician Certificate program that prepares you to confidently work in all types of pharmacy settings, including retail, hospitals, home healthcare, mail order, and nuclear pharmacies.
Whether you are currently employed as a Pharmacy Technician and you're looking to improve your education and move up to more advanced levels of pharmacy, or you're new to the field, this program is right for you. Our pharmacy technician training program will thoroughly prepare you for the Pharmacy Technician Certification Board exam (PTCB), and the Exam for the Certification of Pharmacy Technicians (ExCPT) offered by the National Healthcareer Association (NHA). These board examinations are your gateway to becoming a working professional.
The best way to see if Northwest Suburban College is the right fit for you is to contact an admissions representative. Get more information on the Pharmacy Technician Certificate program, class schedules, and institutional grant options so that you can make an informed decision about your future. Get more info or Book a Tour.
Become a Qualified in Pharmacy Technician
The Pharmacy Technician Certificate program at Northwest Suburban College covers many aspects of pharmacology, pharmacy law and regulation, pharmacy administration, prescription processing, third-party billing, sterile compounding, infection control, OSHA regulation, 400 medications by brand, generic classification, and uses with relation to anatomy and physiology of the human body.
In the Pharmacy Technician Certificate program, you'll learn:
Administration of Medications and Pharmacology of the Endocrine and Lymphatic Systems
Aspects of Retail Pharmacy; Pharmacology of the Nervous System
History and Ethics of Pharmacy and Aspects of Hospitals, Institutional, Nuclear and Oncology Pharmacy Practice; Pharmacology of Respiratory, Urinary and Reproductive Systems
Infection Control, Medication Errors and Alternative Medicines; Pharmacology of the Integumentary Systems & Senses
Administrative Aspects of Pharmacy Technician; Pharmacy Operations; Home Healthcare. Pharmacology of the G. I., Cardiovascular, Circulatory and Musculoskeletal Systems
A PTCB-Recognized Training Program
According to the Pharmacy Technician Certification Board (PTCB), Since 2020, the eligibility requirements for the Certified Pharmacy Technician (CPhT) Program have changed. A primary pathway to eligibility will be completion of a PTCB-Recognized Education/Training Program.**
The Pharmacy Technician Program at Northwest Suburban College is recognized by PTCB for meeting the requirements of the CPhT Certification that will become effective in 2020.
I would love to recommend everyone to come and attend this school. Everyone is helpful and loving. A really wonderful environment. Ever since I attended this school, I felt like I was part of this family. I would love to say thank you to all the staff and faculty.
Plenty of Career Prospects
Pharmacy Technicians are some of the most sought after healthcare professionals. The Bureau of Labor Statistics estimates that between 2016 and 2026, opportunities for pharmacy technician will increase by 12% in places such as clinics, retail pharmacies, grocery stores, hospitals, nursing homes, and major brand pharmaceutical companies. If you are interested in getting into this profession, then the NWSC Pharmacy Technician Certificate program is for you.
Pharmacy Technician Professionals Are Needed to Fill Many Roles
Pharmacy Technicians perform many duties as part of their overall job description, which include:
Working under the direct supervision of a pharmacist in the role of Pharmacy Technician, Assistant Pharmacist, Lead Pharmacy Technician, or Research & Development (R & D) Pharmacy Technician
Practicing customer service, communicating effectively, and performing all tasks required in a pharmacy
Following proper infection control procedures relevant to healthcare safety, including dealing with hazardous products, waste, and controlled substances
Following standard procedures of ordering, receiving, and storing drugs, operating common equipment, and recognizing the pharmacy technician's general role in the delivery of healthcare
Get Real-World Experience
When the class portion of the pharmacy technician program finishes, a Pharmacy Technician externship begins, with hours being split between retail pharmacies and a hospital/mail order setting (120 hours each). The externship can be 20 to 40 hours per week and should be completed within 12 weeks after you finish the classroom portion of the program.
You will receive supervised training, working in an actual pharmacy setting and learning firsthand from industry professionals. During externships, students get vital pharmacy experience and create valuable connections – many are considered for employment during their externship placement.
Convenient Schedule
The Pharmacy Technician program consists of 360 hours of classroom time, and 240 hours of a clinical Pharmacy Technician externship.
Daytime class hours are offered 4:30- 10:00 pm, Monday, Wednesday, and Thursday
Admissions are open every month. You'll be informed of your school acceptance within 3 days of your application. To apply, click here.
Certification – Your Pathway to Employment
Certification is important! It is your pathway to employment, acting as a bridge as you transition from being a student into an employable professional. If you are in the Illinois suburb and looking for a pharmacy technician school come check out Northwest Suburban College.
The NWSC Pharmacy Technician program thoroughly prepares you to take the board examination, instilling confidence when you enter your exam. Illinois requires certification within two years of licensure.  Graduates from NWSC will be qualified to sit for the Certified  Pharmacy Technician (CPhT) exam from the Pharmacy Technician Certification Board (www.ptcb.org) and the ExCPT exam through the National Healthcareer Association (www.nhanow.com).
Is a Rewarding Pharmacy Technician Career Right For You? Get More Info…
If you're interested in learning more about a Pharmacy Technician career and exploring if this is the right career path for you, fill out the form on this page to receive more information.
For immediate questions, call 847-290-6425
*Program length when completed in normal time.
**https://www.ptcb.org/about-ptcb/certification-program-changes#.XPBGYPlKjct