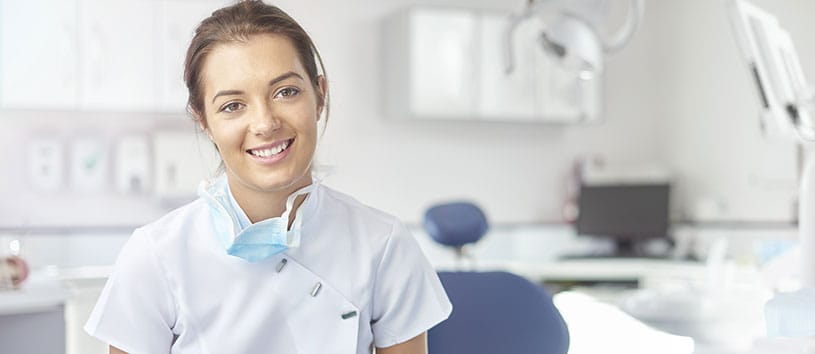 Strong Job Market Projected for Dental Assistants
According to the Bureau of Labor Statistics, Illinois is one of the top five states in the U.S. for employing Dental Assistants. In addition, the metropolitan Chicago area is the third highest urban area in terms of available Dental Assistant positions. The median salary for Dental Assistants in Illinois is $39,370, which is higher than the national average ($38,660). The projected job growth rate of 11% for 2018-2028, is much higher than for other types of positions.
Why Choose a Career as a Dental Assistant?
If you enjoy helping others and want to begin a career with opportunity for advancement, consider training to become a Dental Assistant. The Dental Assistant program at Northwest Suburban College in Rolling Meadows provides both hands-on and classroom learning to fully prepare you for the workplace. You will learn both office procedures such as appointment and billing, as well as the skills you need for chairside assisting (tray setups, materials mixing, radiography, etc.). Once employed, Dental Assistants can choose to specialize in fields such as pediatric dentistry, orthodontics, and oral surgery.
We offer affordable, accelerated, and high quality training. The program can be completed in eight months and includes six classroom modules (560 hours), followed by 160 hours of externship. The externship program provides students with hands-on experience working in a dental office. Students are prepared to enter the workplace immediately upon completion of their externship.
Our campus is conveniently located in the Northwest suburbs of Chicago, and is accessible by public transportation. Please call us at 847-290-6425, visit us, or fill out the form on our web site, to obtain more information about our Dental Assistant program. You will be well on your way to a career that is in high demand.