About Us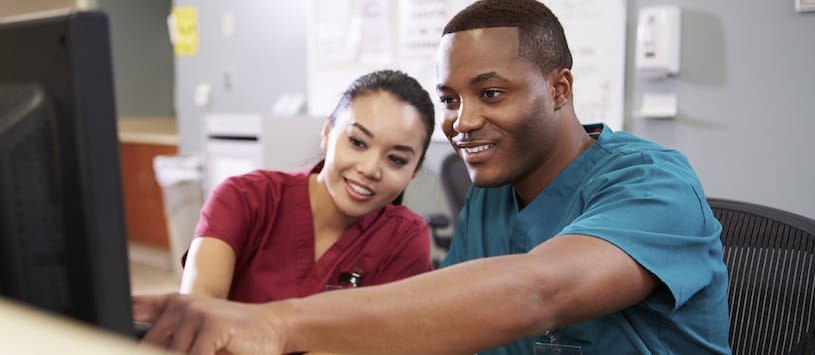 Get Focused Training That Prepares You to Enter the Healthcare Sector
At Northwest Suburban College (NWSC) we want to see you succeed in both your education and career. After all, we've put a lot of work into creating programs that will get you job-ready, and a school that will prepare you to excel in the working world.
Read on to see what makes NWSC so special. If you have any questions, don't hesitate to contact us, or give us a call at 847-290-6425.
Accelerated Learning Means You Can Finish Sooner
We are committed to fast-tracking you on your path to a career and the potential income through accelerated courses. Time saved going to school is time that can be invested in your career, gaining an income, and collecting work experience.
Hands-On Labs Let You Learn Experientially
Daily laboratory hours gives you hands-on experience with being involved in seeing, handling, and manipulating real objects and materials, which prepares you for your professional career. The labs provide an effective teaching and learning experience so you will develop problem-solving and critical-thinking skills. Our many community service projects, and access to externship opportunities in clinics, hospitals, and other healthcare facilities, further enhance the hands-on knowledge that you'll acquire.
Superior Facilities Boost Your Learning
On campus, we offer an up-to-date science and healthcare labs and a computer lab where innovation and leadership in the sciences and medicine are encouraged. There is always a private spot for quiet study time in our library and room to gather for group projects, right on site, in our comfortable lounge; all this in a compact, small-college environment.
Small Class Sizes Mean More One-on-One Attention For You
If you'd like to receive one-on-one attention from your instructor, and coursework that feels customized to your needs, then NWSC is the place for you. Here, you can build your network of professional contacts while learning from peers you know on a first-name basis. Our small-college setting is conducive to the exchange and cross-pollination of ideas.
Reasonable Rates and Institutional Aid Available
While we believe education is priceless and essential, we understand that potential students need to know the financials to make sure they can afford it. Most of our students are adults; they juggle a variety of financial responsibilities for their families and homes. We make attending school more realistic. Scholarships are also available, check out our Institutional Grants page to learn more. If you're ready for a new career, fill out the application.
Convenient and Accessible Location
Conveniently located in the suburbs, and easily accessible by I-290, attending NWSC also can mean a shorter commute to work and home, or your children's schools and childcare, leaving you with more time for the things that matter the most.
Differences of Opinion Are Welcome and Diversity is Encouraged
Our faculty, staff, and student body combined are aptly described as a "mosaic of society". We pride ourselves on having students from all walks of life, nurturing professional discussions, and the sharing of diverse perspectives. Stimulating respectful debates and conversations concerning the most pertinent and contentious social issues of our time are encouraged, resulting in an education that is holistic and students who are well-rounded. Besides reinforcing our sense of community, such discussions help examine our views of society and the world and deepen our sense of responsibility toward improving the world for everyone.
NWSC Fosters Community-Minded Citizens
At NWSC, we take being community-minded seriously. We are driven by the idea of paying it forward. Our students are shaped by their experiences and the many community service projects they take on each year is intended to instill an understanding that we are only as strong as our neighborhoods and communities. As future leaders and drivers of the economy, our students see firsthand the impact and the value of being community-minded. These projects also ensure that the material learned in class is reinforced, as our students practice their skills.
Is Northwest Suburban College Right For You? Get More Info…
If you're interested in learning more about careers in Allied Health and exploring if Northwest Suburban College is right for you, fill out the form on this page to receive more information.
For immediate questions, call 847-290-6425