If you're looking to start your career in the healthcare sector, why not consider getting your medical assistant certification? With quick training, lucrative salaries, and excellent job growth, this allied health profession is an excellent route for people who are new to healthcare or who already have hands-on experience.
Keep reading to learn why this career might be exactly what you're looking for!
This Is a Quick Certification That Pays Well
While there are no formal requirements to work as a medical assistant, most employers prefer applicants to be certified medical assistants. Completing a certified medical assistant program or associate degree is often a necessity to get hired.
But instead of, say, a surgeon going to school for more than 15 years, medical assistant classes usually take less than a year.
This Career Makes a Difference
Well-trained and professional medical assistants can make a major difference in a patient's hospital or clinic experience. On any given day, a medical assistant might administer medicine, assist with surgical procedures, EKG's,  help patients navigate complex insurance policies, and prep patients for examinations.
MAs often cite this wide range of responsibilities for their" WHY" they   proud to be part of this field.
Training Options Are Flexible…
NWSC offers both day and evening classes and should be able to fit classes around your schedule (even if you're raising a family or working full-time).
4…. and Won't Break the Bank
Unlike costly university programs, medical assistant students aren't required to take out tens of thousands of dollars in student loans.
Whether you opt for an MA certificate program (which usually takes around 9 to 12 months) you'll be paying substantially less than what a 4-year (or medical) degree would cost. NWSC believes that everyone should have an education that set each student up for success.  We offer discounts and grants to those who qualify.  Call us to see what you qualify for.  
Learn with Exciting and Applicable Classes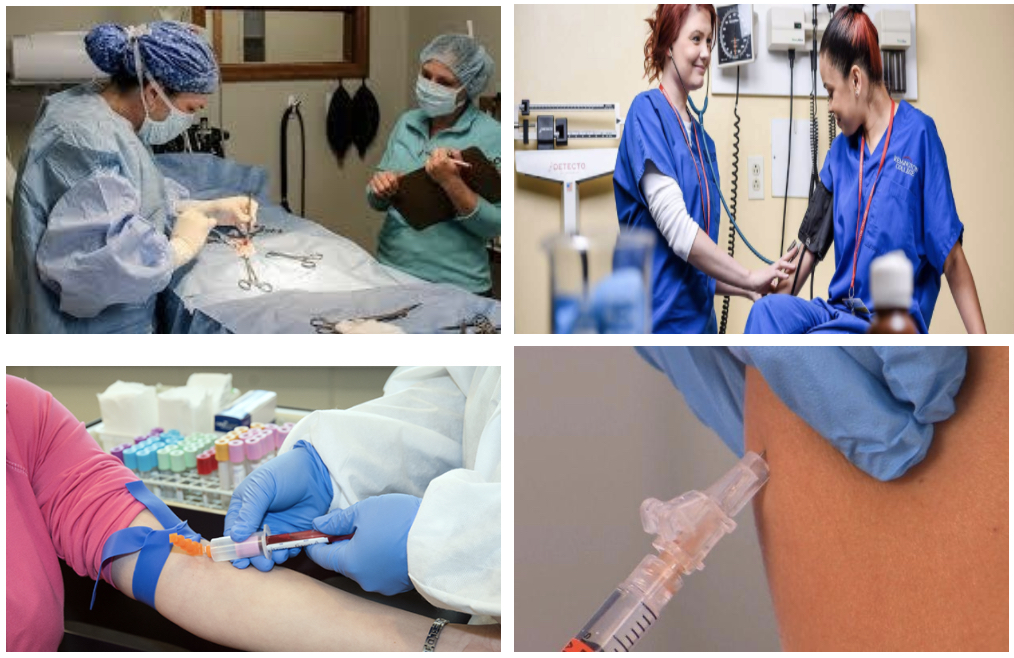 MAs are unique in that they straddle the line between administration and treatment. During medical assistant classes, students will study physiology, patient care, surgical procedures, sterilization techniques, and basic pharmacology. Classroom lessons on administrative tasks like insurance, HIPAA compliance, and medical billing and coding are equally important.
Continue Your Education Later on
Students who pursue the medical assistant program are required to have completed general education courses. While they may seem unnecessary for a quick entry into the medical industry, it's a practical option for anyone contemplating on continuing their education in the future.
After several years of working, you may end up enrolling in a Associates degree program. Some of these associate degree credits can be transferred instead of starting from scratch.
There Isn't One Standard Working Day
The medical assistant job description is so varied that it's impossible to be bored during your shifts. On any given day, you could be speaking with an insurance agency, drawing blood, managing the front desk, or helping take patient's vital signs.
Medical assistants are trained to carry out a wide range of duties and are expected to step in where they're needed the most.
Varied Working Environments
Some people like the fast pace of a surgical ward, general medical hospital, or trauma center, occupational health and 24 hour treatment centers. Others may prefer the quieter vibe of a private physician's office. Smaller practices tend to rely on their medical assistants to handle both administrative and clinical duties, while MAs at larger practices and hospitals tend to focus on one set.
Whichever location you choose, you'll be able to find one that fits your personality.
A Great Launchpad into the Medical Industry
In the medical world, experimenting with different career paths is a high-stakes game. Training as a nurse or a doctor takes incredible time and effort, and it's not unheard of for medical professionals to dislike the field they've chosen.
Why not start with a job that allows you to experience the widest range of duties possible? Medical assistants can decide whether patient care or medical administration is more their speed, and many go back to school to gain their nursing degree or become a certified medical biller.
You've Got Your Choice of Positions
Job vacancies for medical assistants are open. In fact, demand for medical assistants is set to grow by 23% between 2018 and 2028. Nearly 180,000 new medical assistants will be needed to fill up the new positions.
You're Not Tied to One Location…
Unlike physicians who need to obtain a license to practice in a new state, medical assistants are able to move across the country with great flexibility. 
Get Your Hands on New Tech
The medical field is rapidly and ever changing due to constant technological developments, from data storage to new monitoring tools, treatments, and artificial intelligence. It goes without saying, but technology's impact on healthcare will only continue to grow.
As a medical assistant, you'll play a key role in applying these technologies to deliver more precise and personalized care.
You'll become a Stronger Allied Health Professional
Whether interacting with doctors, hospital administrators, or patients, great medical assistants are solid and proactive communicators and are at the heart of healthcare.  
Check Out Our Medical Assistant Program Today, give us a call and see how we can help get you started.