Testimonials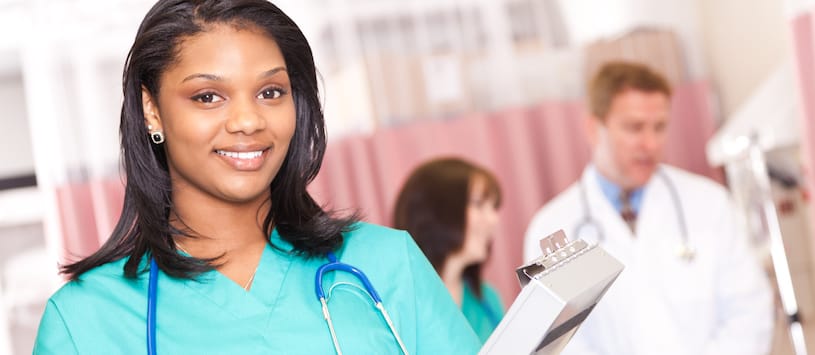 Graduates' Firsthand Experiences with NWSC
Northwest Suburban College (NWSC) is excellent, but you don't have to take our word for it – hear it from the source. Read on to learn about our former students' experiences with the allied health certificate programs.
I wasn't sure what I wanted to do with my life. Walking into Northwest Suburban College changed my life. They helped me choose a path that I now love. Everyone at school was so welcoming and helpful. They helped with my externship and with obtaining a job. I am very grateful for Northwest Suburban College.
Last day of externship!!! I was hired while still completing my clinical hours. The Medical Assistant program at Northwest Suburban College was a great experience. My instructor was very helpful and the hands-on training she provided was great preparation for my externship. I was able to apply my classroom and lab learning to my work at my externship. I look forward to working for my employer and I would like to thank NWSC for making all of this possible.
…I owe it all to the excellent teachers and staff at NWSC. The school provides smaller classes and one on one help when things are not making sense to you. There is no one breathing down your neck. The staff is just a great group of people who want to see you succeed. I loved the work in the lab which really helps you when you get out there in the field. It is a great experience and money well spent!
I attended the Pharmacy Technician program… This school provides very one on one teaching and I recommend to anyone who wants an affordable education. The staff, teachers, and students are wonderful and everyone believes in your future.
The college provides the knowledge, skills, and assistance needed on a one to one basis, which is very helpful… I just completed the Pharmacy Technician program, and I was placed at a pharmacy that was less than a mile from my home for my externship!
…And I passed both the PTCB and ExCPT Board Exams, thanks to Dr. Tishchenko. She prepares a lot of materials for her students' better understanding and takes very good care of each student. Thanks to her continuous support, I have a full-time Pharmacy Technician job already. I would HIGHLY recommend this Pharmacy Technician course.
I came to NWSC in 2016. I heard about the school from a close friend. It was such a great program to be a part of. Thanks to all the great staff members and all their help, I stand where I am today.