Testimonials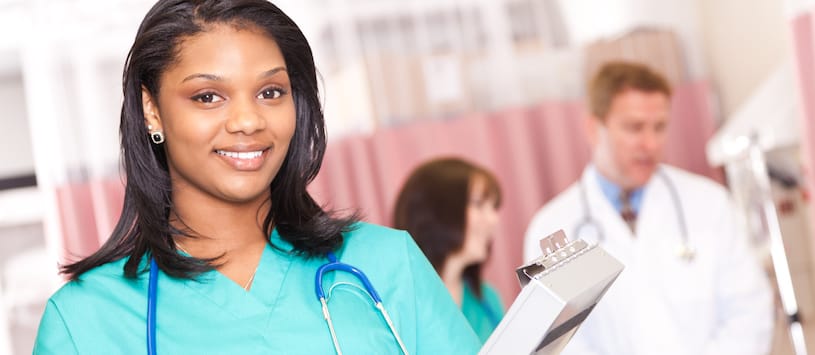 Graduates' Firsthand Experiences with NWSC
Northwest Suburban College (NWSC) is excellent, but you don't have to take our word for it – hear it from the source. Read on to learn about our former students' experiences with the allied health certificate programs.
I graduated the medical assistant program April 3 rd , 2022, and since then – I've been very grateful to have attended such a wonderful program. Throughout the program, I was given the essential tools to be successful in my future career as a medical assistant. My instructor, Ms. Delilah Figueroa always pushed her students to be the best they can be. There were several resources handed to me in order to achieve my diploma. After graduating in April, I received 2 new job offers. I registered to take my CCMA exam at Northwest Suburban College, in which it was emphasized om pir curriculum how important the certification would be in the career field. Overall, I as a student gained an extraordinary amount of growth in new skills. I'm very fond of my experience in Northwest Suburban College.
In my experience at Northwest Suburban College, the Pharmacy Technician track focuses on education, knowing the names of common drugs, their purposes, and potential drug interactions. There are also practical labs, teaching how to use common pharmacy software, mixing drugs, or simply familiarizing oneself with where information is written on a bottle, such as NDC. The course is broad, which allows students to understand the general and underlying works of pharmacy, which are relevant for all pharmacies, and opens the door for more specificity later on. I have definitely benefited from this, both in my technician externship, and in my pharmacy technician role.
My experience at this college really was life changing. I stated this program because I always wanted to work as a medical assistant and at NWSC. They helped me along the process of making this dream real The instructors are so helpful and I couldn't of done it without my teach Ms. D. I 100% recommend anybody who wants to start as a MA to give this college some interest.
My name is Galilea Marquez, I was a student at Northwest Suburban College. I graduated from here August 2021, and I did my externship hours at Jabri Medical in Bloomingdale. My experience in this college was really good, I really liked it. This program took about 8 months to finish all my classes and to do my externship hours. As soon as I graduated, I got hired by a great doctor (Dr. Mansoor Khan). I recommend this school to anyone who is looking for a great and quick program. My rate for this school would be a 5.
Before Joining the NWSC I was enrolled at a different college that offered the Medical Assistant Program where the program was long and expensive. I was frustrated by the number of courses that I had to take that were not related to the field, Luckily, a friend of mine, who graduated from NWSC and who's now working at a respectable hospital, recommended that I check the MA program offered at NWSC. I am glad I did. I'm about to finish the 6- month didactic portion of the program and excited to soon go on my externship to practice what I have learned in the classroom, then start my career. I love everything about studying at NWSC. A great instructor, small classroom sizes where every student gets proper attention, hands – on lab experience, good location, great campus, very reasonable fees, and very welcoming environment
I am highly satisfied with the school and staff. they made me feel very welcomed and answered every question I had. I am very excited to begin class
Everyone at NWSC is friendly and Ive hear a lot of good things about this college online. So far they try to help you out as much as possible
Northwest Suburban college is a great start to my Medical career and very affordable for me.
A great college to join to get your degree quick. Dr Khaja, The MA instructor is the best! He teaches in a way that you understand.
Going to NWSC was the best choice I ever done. Great staff and professor. The Medical Assistant program is great. Everyone knows each other and help each other.