You can be accepted in 3 Days
Courses designed to develop valuable knowledge and practical skills.
Jumpstart Your Career
Your healthcare career is only a click or call away.
Classes now offered in Daytime, Evening and Weekend
At Northwest Suburban College, I liked having small class sizes. I also really enjoyed lab which helped me with hands-on experience. I appreciate all the help that Ms. Tischenko, as well as the rest of the staff, gave me. I highly recommend Dr. K and I am thankful for having him as a professor. Thank you for everything Northwest Suburban College!
I came to NWSC in 2016. I heard from the school from a close friend. I graduated early from Addison Trail High School and decided to do the medical assistant program here. It was such a great program, and being part of it. I have been so successful after finishing my 6 month program. Today, I am working as a full time medical assistant at Northwest Suburban Pain Center. Thanks to all the great staff members and all their help I stand where I am today.
If you are looking for an affordable fast track program that gives you the skills you need to be successful in the work place you cant go wrong with Northwest Suburban College. I have recommended Northwest Suburban College to many future students.
I started this course in July 2017. After 4 months, I got a pharmacy technician license, CPR certificate, OSHA certificate , HIPPA certificate and externship experience. And I passed both PTCB and Ex CPT Board exam thanks to Dr. Tishchenko. She is the best teacher ever. She prepares a lot of materials for student's better understating and takes very good care of each student. Thanks to her continuous support, I got full time Pharmacy technician job already. I would HIGHLY recommend this pharmacy technology course.
This is a great not for profit school that prepares you to become a medical assistant, dental assistant, or a pharmacy tech. I was in the medical assistant program.
Dr. Ahmad was top notch and really cares for his students. He is very knowledgeable and related the material to real life situations. The small class sizes make it possible for you to get one on one attention. If you are struggling or dont understand the material Dr. Ahmad will go UT of his way to make sure you get the help that you need.
The rest of the staff is very helpful and approachable as well. It is unheard of for the President to come and chat with the students at lunch. I will say you get out of the program what you put in. It is a challenging fast track program that is 6 months in class for the day program and then 160 hours externship in a doctor's office.
Dr. Tishchenko not only teaches the pharmacy tech program but also cares for all the students by serving as Dean. She helps make sure we have all our paperwork in order so we can graduate. Then she helps us get externships that we feel most suited for and subsequently helps us get hired after our externship.
Because the school was accreditated and I was able to get the financial aid I needed to be able to attend. Gayathree Raman Financial Aid Administrator was very helpful in getting my financial aid taken care of and making the process very painless. She also helped me get my financial paperwork completed for graduation. I was also able to sign up for my certification exam, something I would not have been able to do if the school wasn't accredited.
The college provides the knowledge, sills, and assistance needed on a one to one basis, which is very helpful. The instructor was patient and explained all information in an easy to understand manner. I just completed The Pharmacy Technician Program, and I was placed at a pharmacy that was less than mile from my home for my externship! Two weeks after attaining my license I was offered a job that I just love! THere is no need to spend a great deal of money or time when you can attain your diploma in as little as 12 weeks, and be working full time within the next three weeks! I would recommend this college to anyone who is interested in a position within the health fields.
I attended the Pharamcy technician program and I am more than happy with the outcome of my education and job career. Within 4 months I was hired as a pharmacy technician. This school is very one on one teaching and I recommend it to anyone who wants an affordable education. The staff, teacher and students are wonderful and everyone believes in your future.
The classes are small which is helpful so you get to know everyone individually and get a better experience. After the 3 months, the school right away, i mean a week after, got me an internship at a Walgreens Pharmacy and 3 weeks later I got a full time job in the medical field I now love (: I would definitely retake the class over and over again. I miss it so much and would be as succcessful and happy as I am today if I never took the pharmacy technician program at Northwest Suburban College for just a short time and low, low, lowest cost possible. Not only should you care about your future, but they care as well. If you sign up, you will not waste your time and it will be a life changing experience.
I have just completed my Medical Assistant program. Ive completed the externship and passed the NHA Certified Clinical Medical Assistant exam. I owe it all to the excellent teachers and staff at the NWSM. Smaller classes, one on one help when things are not making sense to you. No one breathing down your backs, just a great group of people whose want to see you succeed. Loved the work in the lab, it really helps your when you get out there in the field. Great experience, money worth spent!
Recently I'm studying medical assistant, and this course core very interesting and. Helpful to us. I really loved this course and after the joined this course I know everything about "medical".
My instructor of medical assistant and his name is Dr. Khaja Ahmed. He was really very good as instructor and person. He has lot of knowledge about our fields.
My college name is Northwest Suburban College, and my college all working people's like, Director, instructor, financier, administer, also another are very friendly, and really helpful. Finally I loved my college I'm never forgetting.
Overall great experience on in class material, lab are one on one great experience, teaching methods are very well-explained. Highly recommended
Teaches to make sure you understand the concept before moving on to PowerPoints, and textbook. Exam preparations are taught very well with prep packet.
Always making sure everything is going well unearned its class payment and soon externship. Welcoming acknowledge about you and your studies
I really like this course, Ive learned a lot of new things and with some or the stuff I did know I learned why it happens which is really cool.
Dr. K is really good at teaching! He does good at explaining what we learn about, he always makes sure that we understand what he is teaching, if not he goes into more detail.
I'm going on my last month, the course been great. I have learned a lot. Medical terminology, and working in the lab have been the best part of the course. Been able to practice some of the stuff will be doing at the clinic or hospital been exciting. I have no complaints about the wavel.
The instructor is wonderful! He has a lot of knowledge and know how to express himself very good on the topic. He makes sure we are clear about what we learn every module, Dr. Khaja is great.
My experience with NWSC been good. I have no complaints what so ever. Everyone is always trying to help us here. Any questions or concerns we are able to approach to anyone with no problem. I have been experiencing a lot of good things here.
WELCOME TO NORTHWEST SUBURBAN COLLEGE
Why NWSC

"90% of NWSC graduates have achieved employment in healthcare or acceptance into graduate school"
ACCELERATED LEARNING

At Northwest Suburban College, we are committed to fast-tracking our students to their career paths and potential income through accelerated courses.  Time saved going to school is time that can be invested in your career, accruing an income and work experience.  
PRACTICAL KNOWLEDGE
Graduating with a degree or certification that is closely aligned with job requirements in the industry of your interest improves your success-rate when seeking employment.  On campus, we offer a state-of-the-art science lab, and three computer labs, where innovation and leadership in the sciences and medicine is encouraged.  There is always a nook for quiet study time in our library and room to gather for group projects, right on site, in our comfortable lounge; all this in a compact, small-college environment.  Our many community service projects, and access to externship opportunities in  clinics, hospitals, and other healthcare facilities, further enhances the hands-on knowledge our students acquire. 
SMALL CLASS SIZES
Would you like to broaden your horizons with personalized instructor attention, where coursework almost feels customized to your needs?  Do you thrive in a small college setting conducive to the exchange and cross-pollination of ideas? Do you want to build your network of professional contacts while learning from peers whom you know on a first name basis ?  If you answered yes, NWSC is right for you.  
AFFORDABLE
A majority of our students are adult learners, juggling myriad financial responsibilities including a home and family.  At NWSC, we are committed to providing our students an opportunity to learn at an affordable price. Use the Net Price Calculator to see what it would cost you to attend NWSC. We offer scholarship opportunities to all of our students.
PROXIMITY
Conveniently located in the suburbs, and easily accessible by I-290, attending NWSC also means a shorter commute to work and home, your children's schools and childcare, leaving you with more time for the things that matter the most.   
There is no better time than the present to create a better future. You can get enrolled in less than a week. Start now by filling out the application and calling or emailing our friendly admissions staff, to learn more. We hope to see you soon at NWSC!
Mission
At Northwest Suburban College, our mission is to provide high quality, accelerated, and affordable education in professional and paraprofessional fields that will lead to scholarly pursuit and gainful employment opportunities.
Our objectives are to:
Offer academic excellence through structured curricula, extensive guidance, and small size classes.
Offer curricula-intensive preparation for entry-level positions in various fields and the groundwork for success in an ever-changing work world.
Develop programs that enhance academic skills essential for employment and life-long learning.
Provide career guidance to produce realistic goals and aid in understanding current job markets.
Foster externships with clinics, hospitals, and other healthcare facilities to develop training of our students and employment opportunities for our graduates.
Make available a variety of support services necessary to the college experience.
Academics
Gainful Employment
"90% of NWSC graduates have achieved employment in healthcare or acceptance into graduate school"
Dental Assistant Undergraduate Certificate 
Program Length: 30 weeks
Medical Assistant Undergraduate Certificate 
Program Length: 30 weeks
International Students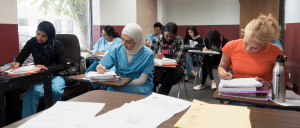 Northwest Suburban College warmly welcomes international students to join our diverse community of knowledge-seekers. Regardless of the city you call home, when you join NWSC you will be part of a family that nurtures you both academically and socially.
NWSC teachers provide academic advice and student support, offering  resources to make Chicago home, whether it's tips on finding accommodation near campus or exploring the many attractions of the Chicago area. At NWSC, you have the advantage of small class sizes that allow for direct attention from your professor and a close community to call your second home.
"90% of NWSC graduates have achieved employment in healthcare or acceptance into graduate school"